Deborah Niemann – Goats 101
$129.00 (-92%)
In 2002, Deborah and her family moved to 32 aces on a creek in the middle of nowhere to grow their own food organically

Deborah Niemann – Goats 101
Check it out: Deborah Niemann – Goats 101
Goats 101
A practical guide to successfully raising goats
Gain confidence that your goats will thrive with proper nutrition and withOUT routine use of chemical dewormers and other drugs.
Save money by not buying unneeded supplements, supplies, and equipment.
Save time by not searching the Internet and trying to weed through a dozen opinions and outdated information.

Enjoy time with your goats knowing what's normal and what needs attention.
Your Instructor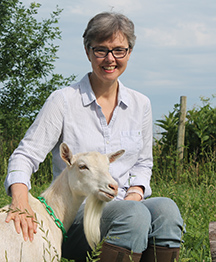 In 2002, Deborah and her family moved to 32 aces on a creek in the middle of nowhere to grow their own food organically. With the help of goats, sheep, pigs, and poultry, they produce 100% of their meat, eggs, and dairy products, as well as a large percentage of their vegetables, fruit, and herbs. Deborah is the author of six books, including Homegrown and Handmade, Ecothrifty, and Raising Goats Naturally, as well as her latest book, Goats Giving Birth. She also teaches sustainable agriculture courses online for the University of Massachusetts – Amherst. She has been teaching Raising Dairy Goats Sustainably since 2013 and Pastured Poultry since 2015.
Course Curriculum
Goats 101
Welcome to your class! (4:16)

Buying Your Goats (40:13)
Shopping List for Goats
Fencing (28:33)
Housing (20:04)
Day to Day (32:42)
Livestock Guardians (38:13)
Feeding and Nutrition (105:30)
First Aid & Medication (18:36)
Parasites (80:26)
Disease and Illness (52:10)
Vaccines (13:53)
NEW! Creating Copper Boluses for Goats (3:01)